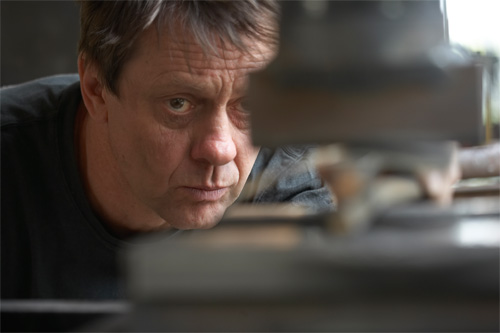 Etienne Viard was born in France, 1954.
He lives and works between Paris and Provence (Vaucluse).
Etienne Viard's work is based solidly in the minimalist movement, within which Viard reduces minimalism's aesthetic vocabulary to one simple element : the line.
Viard's line is fragmented, pulled long, rounded, laid down flat or stood up straight, delicately fighting gravity in a fragile equilibrium.
Inspired by the undulating forms of plants and minerals, Viard renders this organic movement in his sculptures, creating a perpetual and precarious energetic tension.
Etienne Viard is called a 'sculptor of steel' – the Corten steel he uses oxidizes in contact with the air, allowing his sculptures to pay homage to their inspiration, while standing proudly apart.
About Corten steel :
" The Corten steel is a self- patinated steel forced to surface corrosion , used for its appearance and weather resistance , in architecture, construction and art mainly outdoor sculpture. The most renowned sculptors work with Corten steel is the American Richard Serra, the French Bernar Venet and Philippe Desloubières , Spaniard Eduardo Chillida, the French Etienne Viard, and the Franco – Mexican Jorge Dubon ."
Source : Wikipedia